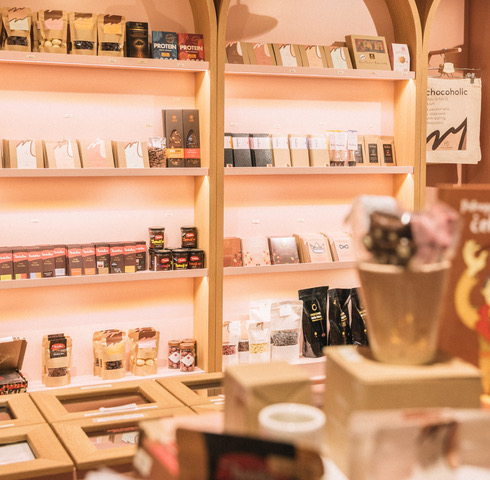 Discover Croatia's only Chocolate Boutique
Looking for an original gift for a birthday or Valentine's Day? Or do you just want to indulge yourself? Are you preparing for an evening of chocolate tasting? Are you interested in bean-to-bar, artisan, gourmet, and craft chocolate from Croatian manufacturers? Chocolate candies, pralines, and bars? Would you taste roasted cocoa beans or chocolate with a 100% cocoa content? Want to compare single-origin chocolates from Peru, Ecuador, Guatemala, Colombia, the Philippines, or Madagascar?
Or are you planning to make a special chocolate dessert for which you need thermostable chocolate, cocoa butter, or ruby chocolate?
Our chocolate boutique in a one-stop-shop with the largest selection of small domestic producers far end wide: Taman Artisan Chocolates, Chozen, Nadalina, Aura, Bolero, Lucifer, Anka čokolade, Croatian Choco Concept, Raw Sweets by Mihaela, Hedona, Chocovix… All of course stored in strictly controlled conditions, to warrantee the highest quality.
Exclusive Choice Chocolates in One Place
Chocolate is not just chocolate. Bean-to-bar, gourmet, artisan, and craft chocolates offer completely new flavors and experiences. There are countless possible combinations on offer.
You will find dark, milk, white and ruby chocolates in our chocolate shop. Original creations such as the edible Cro Choco Concept Baška Tablet, various chocolate lollipops or Nadalina's unique fully functional gramophone records made of chocolate. You can also buy bars, candies, chocolate-spreads, liqueurs, and beverages. With infusions and inclusions.
Enriched with Dalmatian carob, olive oil, cinnamon, nibs, hazelnuts, cashews, strawberries, raspberries, cayenne pepper, chili, lemongrass, roasted cocoa beans, oranges, thyme, coffee, cardamom, roasted sesame seeds, curry, roasted pumpkin seeds, flower of salt, caramelized hazelnuts, lavender, figs, apples, oranges, cranberries, honey, yuzu, peaches, dried fruit, pistachios, lemons…