If you are wondering what to do in Zagreb, put the Chocolate Museum Zagreb on your sightseeing map and learn about the tasty world of chocolate. Explore the history of chocolate, going back as far as the ancient Indian tribes of South and Mesoamerica, taste nine types of chocolate from our sample box, take selfie in our mystical rainforest, our lavish baroque royal court or in Willy Wonka's magical chocolate factory, grind cocoa beans using a metate like the Aztecs did or make a foamy chocolate drink like the Mayas…
The Chocolate Museum Zagreb is ideal for family trips, hangouts with friends and for romantic dates alike. Guided tours are available in Croatian, English, and German, while all exhibits are in Croatian and English. And our Chocolate Boutique offers the widest choice of local Croatian artisan chocolates and pralines – a gift shop incomparable with any other in Zagreb.
Visit the Chocolate Museum Zagreb, enjoy our top attractions, and leave enriched by new knowledge, excellent taste and memories that will always make you smile.
We are looking forward to welcoming you to the sweetest museum in Zagreb!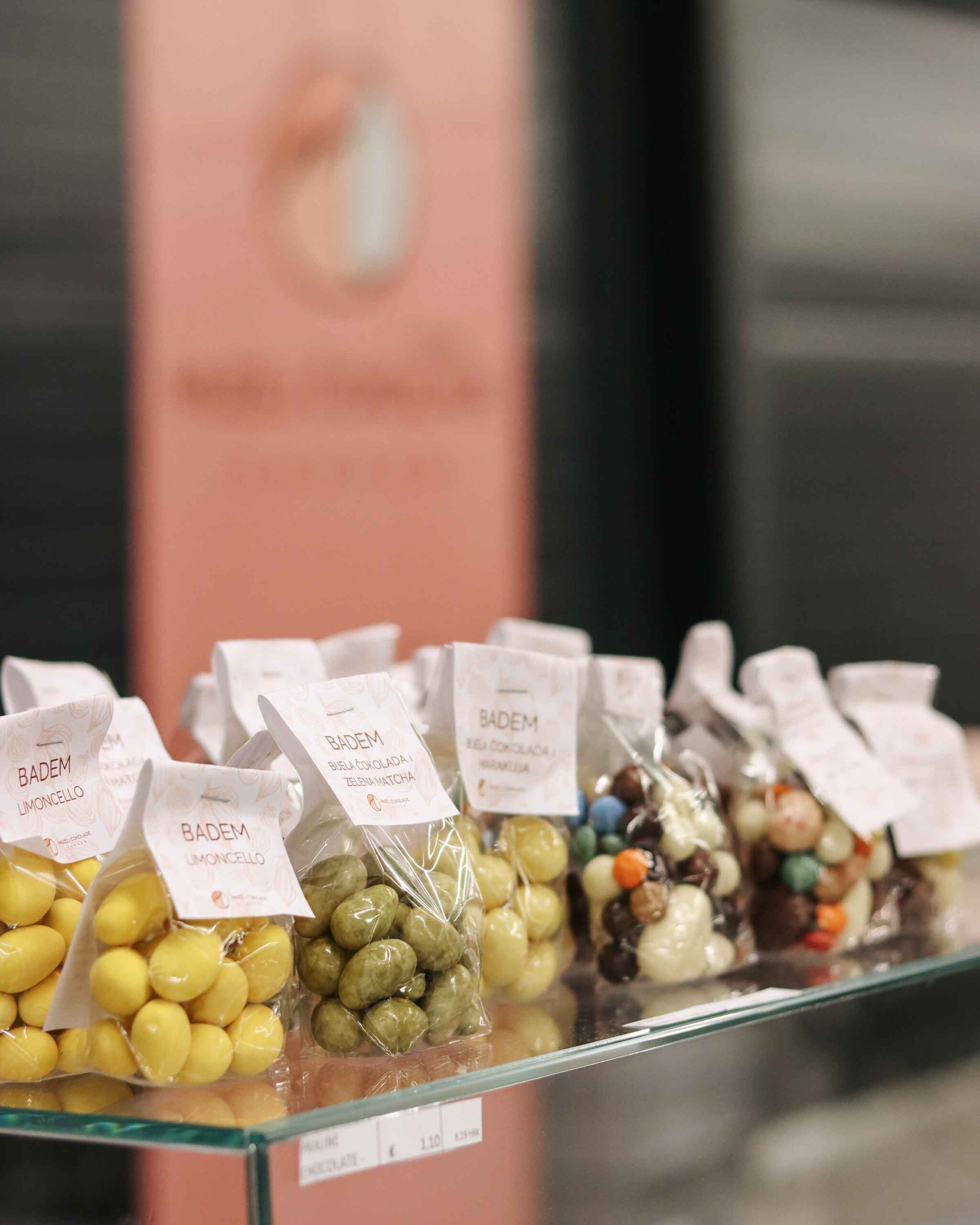 Days of Chocolate and Coffee 2023
The second Days of Chocolate and Coffee in the Family mall have 
successfully 

finished

.
Hundreds of kilos of pralines, chocolate bars, desserts, coffee and liqueurs. A total of 50 exhibitors from Croatia, Slovenia, Italy, Bosnia and Herzegovina and Serbia made sure of that. There were workshops on chocolate and coffee, and on cosmetics with chocolate and coffee. There were almost 20 presentational workshops, and the same number of creative and musical workshops for children. The rich program  was complemented with an artistic performance by the academic sculptor Dr. Petar Popijač who created statues out of massive chocolate blocks, an exhibition from the Chocolate Museum Zagreb and a humanitarian campaign for the foundation Zaklade Solidarna with the support of aukcije.hr i Barry Callebaut.
During four days, from February 23rd until 26th 

2023 nearly 30 000 visitors explored the biggest offer of sweets in the town
.
There were artisan and craft chocolatiers like Taman Artisan Chocolates from Zagreb, Nadalina from Solin, Croatian Choco Concept and Lungo Mare from Opatija, Medina kuća from Popovača, ChoCo slastice from Velika Gorica, Chade from Osijek, Slovenian Lucifer, Bashka Chocolatier from Sarajevo, Chocovix, Chozen, Hedona, the boutique of the Chocolate Museum Zagreb, San Marina from Belgrade, Cukrček from Ljubljana and Italian iChoco and Tvornica čokolade Yaya.
Dozens of different types of coffee were available for trying
Numerous globally recognisable, as well as some exotic brands were to be explored. Like Steam Coffee, Lively Roasters, Franck, Costa Coffee, Caffe Vergnano, Lavazza, Barcaffe, Juliusa Meinl, Anamaria Company, Capsula, Segafredo, Nescafe, Hug & Punch and Hausbrandt.
Bili su i

brojn

i

drugi

izlagač

i

iz svijeta čokolade, kave, slastica i slasnih napitaka
Discover Chocolates from Around the World!
Discover a small part of the world's chocolates and submit your photo to complement our chocolaty gallery.
Frequently Asked Questions
How much do the tickets cost / how much is the admission?
The ticket for children from 5 to 18 years is 6.50 EUR (48.97 HRK), for adults 9.00 EUR (67.81 HRK), and the family ticket, which includes entrance for two adults and up to three children, is 28.50 EUR (214.73 HRK).
Discounts are applicable to the following groups:
Pensioners and persons with disabilities (with valid proof of status) – 6.50 EUR (48.97 HRK).
Students (with proof of enrolled academic year) – 7.00 EUR (52.74 HRK).
Each purchased ticket includes a sample box with chocolates for tasting.
What is the address of the Chocolate Museum Zagreb?
We are located next to Trg Petra Preradovića (also known as Cvjetni Square, i.e. the Flower Square), at Varšavska 5, 1st floor. This is two minutes walking distance from the central Josip Jelačić Square. The Museum is accessibly by stairs or via elevator.
What are the opening hours of the Chocolate Museum Zagreb?
Opening hours from Tuesday to Saturday are from 10:00 to 20:00. On Sundays, the Museum is open from 10:00 to 19:00. The last entrance is possible no later than one hour before the end of the working hours. The Museum is closed on Mondays.
For public holidays, you can check our working hours by calling +385 1 209 2966.
Is the Museum wheelchair accessible?
The Chocolate Museum Zagreb can be accessed by wheelchair. The Museum is located on the first floor, but it can be reached by elevator from the ground floor. There are no wheelchair barriers in the Museum. Unfortunately, the toilet is not adapted for people in wheelchairs.
Do you need to buy tickets for the Chocolate Museum Zagreb in advance or book an appointment and make reservations?
Tickets do not need to be purchased upfront. Come when it suits you. There are more visitors on weekends than on the rest of the week, but there is generally no waiting to enter. Only occasionally does a delay of a few minutes occur if a larger group of visitors arrive at once. Unfortunately we cannot receive arrival dates because we cannot control the length of stay of individual visitors and thus the pace of entry of others.
Can chocolates be bought at the Chocolate Museum Zagreb without entering the Museum's exhibition?
The chocolate boutique is at the entrance of the Chocolate Museum Zagreb. Access to the shop, as well as the purchase of chocolate, is possible without entering the Museum's exhibition.
What can I expect from the Chocolate Museum Zagreb?
In the Museum you can learn about the history of chocolate, how it has changed over time, who consumed it and in what forms. You can learn how it is produced, you can test your senses and try to recognize the ingredients that go into chocolates. You can see ancient Aztec sculptures, porcelain chocolate makers from baroque European courts, tins of chocolate drinks from the time of the industrial revolution and chocolates from the first Croatian factories. You will also be able to taste chocolate – a total of nine types, each at its own time. You can expect content adapted for children and adults, available in Croatian and English.
Don't expect a playroom or patisserie. The Museum offers interactive educational content, but it is not an amusement park. It also offers a tasting of selected premium chocolates to help discover the taste of a particular era and to round off the whole chocolate experience.
Rent the Venue for an Event
Chocolate Museum Zagreb in the Media…
Awards of the Chocolate Museum Zagreb
Chocolate Museum Zagreb in the Media…














Awards of the Chocolate Museum Zagreb