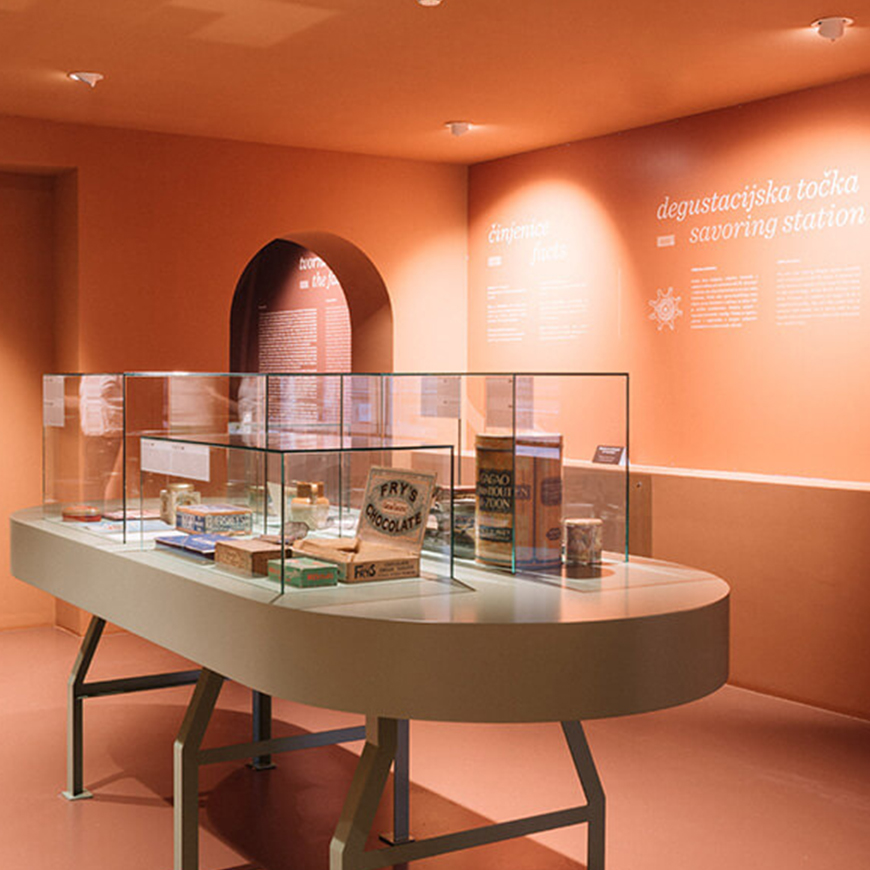 Tour the Museum and Taste Chocolate
Dive into the history of chocolate, from the ancient Aztecs of Mesoamerica over the Belgian praline to the great English chocolate factories. Taste a cocoa bean, chocolate liquor, ruby chocolate, and molten white chocolate. Grind cacao, stir up a chocolate beverage like the Maya. Sit in a baroque European royal court surrounded by centuries old porcelain, find out who invented rice chocolate, who was the first to make chocolate in Croatia, who brought chocolate to Europe, who was the inspiration for Willy Wonka, and who used cacao as money.
Put the Chocolate Museum Zagreb on the top of your list of things to do in Zagreb, as here you will receive a sample box with nine chosen types of chocolate (a roasted cocoa bean, drops of chocolate mass (100% pure chocolate), dark, milk, white and ruby chocolate as well as a spoon to try three versions of molten chocolate: chocolate liquor, dark, milk and white chocolate). Every room is a new epoch with new attractions, every room tells a new story, every room has its own taste, every room brings new astonishing historical insights.
Tour the world of chocolate, in Zagreb's strict city center (two minutes walking distance from the Josip Jelačić Square, in the sweetest museum in Croatia.
Looking for more travel inspiration? Check out momondo's ZagrebGuide.
Tasting
The process of evaluating food and beverages using the sense of sights, touch, smell, and taste. The focus isn't on the act of eating or drinking, rather on the conscious degustation maximizing the experience of taste and aroma.
In the Chocolate Museum Zagreb, you will taste a roasted cacao bean, solid dark, milk, white and ruby chocolate, liquid chocolate liquor and molten dark, milk, and white chocolate.